Pity your poor kitchen doors. They may have looked beautiful when your new kitchen was first installed but since then they've been used every day, continually opened and closed by all the family and subjected to the wear and tear, bumps knocks and scratches of everyday life. So what do you do when your kitchen doors are looking a bit scruffy and letting down the rest of your kitchen?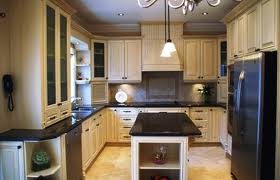 It's true that you can buy dedicated kitchen door paint that will freshen and revitalise to a certain extent, but for anything greater than the cosmetic signs of everyday use, actually replacing your kitchen doors and drawer fronts is a comparatively inexpensive and straightforward means of restoring that 'newly-installed' kitchen appearance.
Stocked by many larger DIY and home improvement stores such as Wickes, replacement kitchen doors are available in a vast range of styles, colours, sizes and finishes, so replacing your existing kitchen doors with something like-for-like or going for a whole new look shouldn't be troublesome.
Replacing kitchen doors isn't so difficult that it can't be achieved by a fairly competent and enthusiastic DIY-er, so if you're keen to give your kitchen a makeover here are 10 useful tips to remember when replacing kitchen doors that will help you make a perfect job of it.  Although it can be easy to install a door it never hurts to get professional help from Style by Carden Exteriors Inc if you have never done door installation before.
Getting the measurements right is the most important thing

Firstly, measure the doors themselves: never use the measurements of the kitchen's carcass. Kitchen doors are typically 4mm narrower than the carcass to allow unencumbered opening and closing. Similarly, doors will be 4 or 5 millimetre shorter than the carcass to allow clearance for worktop edgings, mouldings, cornices and other features. Don't rely on two similar looking doors sharing the same measurements – take precise individual measurements for every single kitchen door (and drawer front) you want to replace.
Check your measurements again

No matter how convinced you are that you got the measurements right first time, check and double-check. Unless you're prepared to journey back and forth to the supplier to change incorrectly-measured doors or you're proficient at cutting your new kitchen doors to fit properly.
Ensure that your carcasses are completely level, plumb and square

Before you begin fitting replacement kitchen doors it's important to check with a spirit level and plumb line that the carcasses themselves are completely true; if they're not, not matter how much you attempt hinge adjustment etc. replacement doors will not hang correctly.
Samples are better than photographs

Take the photos in brochures as a guideline only as to how you kitchen will appear once you have replaced the door. If you'd like a more accurate idea of how a particular style or shade is going to look, either buy or ask to borrow a sample so that you can see what your new doors will look like 'in-situ'.
Choose kitchen doors that complement, rather than clash with, your home

Whilst a change is as good as a rest, choosing ultramodern glossy, black and chrome kitchen doors might be a mistake if the rest of your home adheres to a rustic natural-wood farmhouse-style décor. Take care not to choose replacement kitchen doors that will date too quickly; should you decide to move house the style and modernity of the kitchen can be a key selling point.
Check and replace worn or damaged fixings

Whilst it might be tempting to re-use existing cupboard door hinges, unless they are in almost mint condition you're likely to be better off fitting new hinges with new kitchen cupboard doors. Other fixings such as screws should be replaced if they are showing signs of rust, have stripped heads or are bent, snapped or otherwise damaged.
Standard-sized kitchen doors mean less hassle and lower cost

Bespoke-sized kitchen doors are inevitably more expensive to replace but often the difference between a made-to-measure kitchen door and a standard-sized one can be nothing more than a few millimetres. If you're replacing all of your kitchen doors and drawer fronts it makes good sense to see whether it's feasible to swap to standard-sized items. Take care to check clearances and handle and hinge positions when considering this option.
Replace kitchen door and drawer handles if necessary

It's a good idea to take a spare handle from one of your existing kitchen doors when choosing new ones so that you can see whether or not the current handles will work with the new doors. It's pointless giving your kitchen a fabulous new makeover if the end result will be spoiled because of worn or non-matching handles, and since replacement kitchen door handles are relatively inexpensive it's worth taking care of everything at the same time.
Pay attention to positioning when fitting kitchen door handles

Careful measurement is, again, crucial when it comes to fitting your kitchen door handles whether you're using existing handles or have bought new ones. If your replacement kitchen doors are identically-sized with the originals and the handles are the same size and style, the original handle positioning can be used as a guideline, otherwise care and attention must be paid to ensuring that each handle is fitted in exactly the same position on each new kitchen door. To ensure correct alignment between handle and door, the screw holes for kitchen door handles should be drilled from the front of the door to the back, rather than from the back to the front.

Make sure you know how to care for your replacement kitchen doors

If you've chosen solid wood, painted or veneered replacement kitchen doors, or acrylic doors with a high-gloss light-reflecting finish be sure to clean them only with products that are suitable for them; kitchen cleaning products with a scouring action or bleach-based products may cause lasting or irreparable damage if incorrectly used on the wrong surface.