The Mediterranean is a wonderful place to spend a few weeks or even months exploring by land or sea. It offers calm seas, cheap living, great food and wine. The weather is exceptional from April to November with sunny days and  temperatures averaging in the high 20's.
This glorious sea touches 21 countries and three continents. Turkey, Syria, Lebanon, Israel, Greece, Albania, Montenegro, Bosnia and Herzegovina, Croatia, Slovenia, Italy, France, Spain, Morocco, Algeria, Tunisia, Libya, Malta, Cyprus, Monaco and Egypt.  The three continents are Europe, Asia and Africa.
The best way to make sure you get to see a few countries and have a relaxing and enjoyable trip is to take a Mediterranean cruise. There are many tourism operators with packages ranging from luxury private yachts to more affordable smaller operations and 18-35 tours.
Cruises have been misinterpreted by many people who still think they are all long haul and filled with older guests. Nothing could be further from the truth these days as some great short Med cruises are available for people of all ages.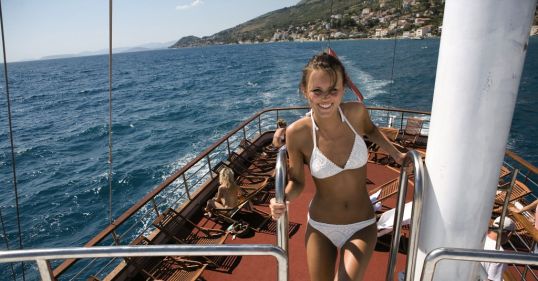 Visiting the Mediterranean is really like stepping into another world. Each country has its own unique features and the lifestyle is laid back, with the locals famous for taking the time to enjoy their food, wine and have mid-day siestas.
There are so many places to visit and consider for your Med cruise in 2013. You could be setting off with an itinerary featuring trips to epic locations such as the ancient cities of Spain, mythical Greece, Dubrovnik, or sailing off to see the beauty of Sicily. The Mediterranean really does have everything and will give you an experience of a lifetime.
Classic Mediterranean Cruise
A classic Mediterranean cruise will visit the major port cities located on the northern shores of the Mediterranean Sea in the countries of Spain, France, Italy, Monaco, Greece and Turkey and the islands of Malta, Crete and Sicily.
You can add more or less countries depending on what your interests are and this is one of the reasons people love cruises. You get to visit many different countries, pop in to do some shopping, have a look around and then climb aboard and off you sail into the sunset ready for a new country in a few hours.
When you take a Med cruise, all meals are provided on the ship by world class chefs who will use infusions of the local ingredients as they stock up in port while you are wandering around the beautiful streets.
To check out a great website for Med Cruises in 2013 click here and have a look for yourself.