The seaside coastal city of Biarritz is located on the Bay of Biscay in the South West of France.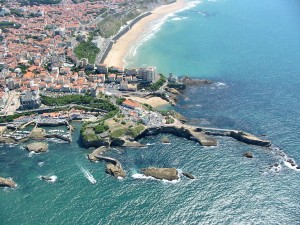 With a modest population of around 35,000, Biarritz has a reputation of been a quaint, posh yet retro location to swing by on a retreat.
Numerous outdoor activities all play a part in making this idyllic location a very popular destination. Horseback riding, snorkeling, rugby and golf can all be sampled to your hearts content. You can also rent a yacht if that tickles you.
If you fancy a flutter, then you have a choice of two spectacular casinos down by the waterfront to pass away an evening.
For all the food lovers out there, then a visit to the wonderful Museum of chocolate is well worth it.
It is also home to the annual Biarritz Surf Festival, which was created in 1993.
Biarritz is well known for its strong surfing culture. Conditions for surfing in Biarritz  are said to be among the best in Europe. Many tourists flock here just for the waves and little else.
During the surf season, it can get pretty crowded so plan your holiday in time. August(during the surf festival) is the busiest by a long shot.
Biarritz is peppered with small, independent shops that add volumes of atmosphere and character to your typical French resort.
The beach in Biarritz is a refreshing one to say the least. Complete with fresh Atlantic winds sweeping the golden sand all day long. Prices along the beach can be a little more expensive though, so bear that in mind.
The Hotel du Palais was originally built the Napoleons wife back in the day. Even if you are not staying in this hotel you can still visit the public rooms there and enjoy the surroundings.
Place Ste-Eugenie is the so called grandest part of Biarritz. On one side you have exquisite restaurants, and on the other you have cafes and other social areas to meet people and chill out. Beneath the area is a fishing port, where one can enjoy the views of wooden houses and other shacks that are built in front of the cliff. Authentic lobster traps can be seen here by the hundreds.
At night time, the city affords a very decent, vibrant social scene where plenty of bars and nightclubs can be found. Even at night you can walk along the seafront and see numerous snorkelers by the statue.
If you plan on relaxing by the beach, immersing yourself in the cities rich history or catching some surf then Biarritz is a top quality destination that will leave you with lifelong memories!