OK, some parts of North Africa haven't had such good press lately, but Tunisia was one of the first to experience a government overthrow. At the time of writing there are no travel restrictions and Tunisia is definitely a destination worth visiting. All inclusive deals are popular in this North African country where the main languages spoken are Arabic and French.
Tunisia is a year round destination for sun seekers though the winters are warm rather than hot. It has a long coastline with many beaches. Most hotels that are in the coastal resorts will have a stretch of beach to use too.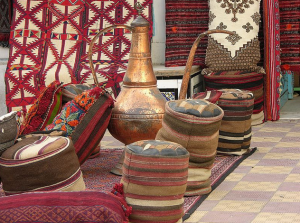 They'll be a number of activities available to you from paragliding to diving and sailing. You'll need to check whether these are included on all inclusive trips package or whether you need to spend some extra Tunisian Dinars.
Hammamet
This resort is the most popular but still manages to retain some of its original charm. It was a favourite spot of artist Paul Klee and author Andre Gide in the early part of the last century and it's easy to see why. Nowadays you will find a lot of other European tourists here and consequently many European languages spoken.
If you can drag yourself out of your hotel visit the medina which dates right back to the 1500s. Here you'll find hundreds of souvenir market stalls to entice you to part with your cash. Wander round its outer walls too where it overlooks the sea.
For a real treat visit the International Cultural Centre which you can find next to the beach. Once the home of a Romanian millionaire, it was one of Frank Lloyd Wright's favourites. He described it as 'the most beautiful house I know' – quite some accolade from an architect.
Skanes
On the East coast Skanes is much smaller than Hammamet, but just as welcoming. You can indulge in sightseeing and shopping when you venture out of your hotel and of course enjoy the white sandy beach. There's also plenty of nightlife in the hotels.
Sousse
The large town of Sousse is right on the seafront so has become a popular tourist destination. Like Hammamet it was first developed for the holiday trade in the 1960s. You can enjoy the beach, the medina and many great restaurants if you want a change from your nightly, well-stocked buffet.
Wherever you stay, you'll find the locals are colourful and hotel staff attentive. You might even arrive in your room to find a beautiful Hibiscus flower on your pillow!