Sunworshippers abound in St. Thomas, where over 40 major beaches stretch along the coastline. Coconut groves give way to sugar white sands and turquoise waters. Step out of your St. Thomas family villa rental and amble onto one of these magnificent beaches.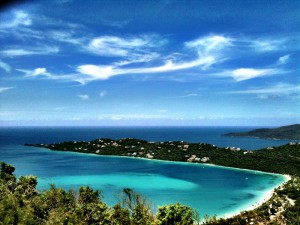 Magen's Bay
A three-quarter mile stretch of powdery beach and calm waters lends to Magen's Bay being the most visited and picturesque beach in the Virgin Islands. Two peninsulas guard the shore from erosion and rough waves, making it perfect for swimming. On hot summer afternoons, depart from the ivory sands and take rest in the peaceful, shady groves of the arboretum.
Sapphire Beach
Truly a jewel of the Caribbean, Sapphire Beach rivals Magen's Bay as the finest beach on the island. For the restless beachgoers, aquatic adventures are plentiful as equipment rentals can be obtained from concession stands and the marina. The reef ensures premium snorkeling, especially around Pettyklip Point. If you want to simply relax, take shade under the sea grape trees rustling gently in the breeze.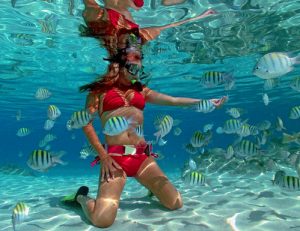 Coki Point
While Coki Beach has a gorgeous beachfront perfect for a relaxing swim or sunbathing, the many services and attractions available make it a destination that is better suited to a day of activity: Head over to the nearby World Marine Park to see the brilliant ocean life up close. For an even more intimate encounter, dive into the warm tropical water and let a colorful fish eat right out of your hand. Walk up to the service vans and order a local treat, or better yet, have one of the wandering beachside waiters bring you the dish of your choice while you warm in the sun.
Secret Harbour
It's the quintessential tropical paradise to get away from it all. A quiet bay with gradations of blue, silvery sands that tickle the toes, and palm trees with hammocks strung between them. The calm waters makes swimming an attractive option while the suspended raft in the middle of the bay was made for lounging underneath the sun. And don't forget your snorkeling gear!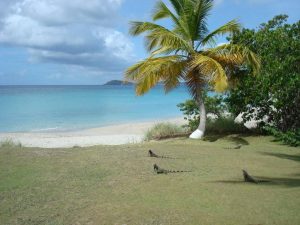 Limetree Beach
Following along a natural cove, perfectly framed by bougainvilleas, coconut palms, and sea grape trees, Limetree beach is a secluded retreat at its finest. Lie and unwind while savoring a good book or playing I-Spy with the iguanas hiding in the lush foliage. As night approaches, watch the sky explode in shades of crimson and gold with a crisp sundowner beverage in hand. A luring oasis indeed.